A History Of Violence -- The Myth Of The Moderate Kurdish Rebel
By Sarah Abed
https://www.mintpressnews.com
Posted 2017-08-09 21:45 GMT
In Part I of independent analyst Sarah Abed's three-part analysis for MintPress News, Abed began exposing the modern day Kurdish/Israeli alliance that both parties have tried to keep hidden in order to avoid drawing the public's attention to their ultimate plan, as well as the U.S.' use of Kurdish factions in destabilizing the Middle East.
The Kurds have engaged in such relationships in part because of internal divisions and disunity, which have also made it difficult to fulfill their goal of establishing a fully autonomous Kurdistan spanning over the four countries they currently occupy.
Abed also examined the Syrian government's attempts at keeping the country united by addressing and implementing constitutional changes that benefit the Kurds -- attempts that have still failed to convince separatist Kurds to abandon their goal of Balkanizing and illegally confiscating parts of Syria at the cost of the people who reside there.
Part II examined this topic in greater depth in hopes of raising awareness of this little-known but imperative part of the Syrian puzzle. Abed analyzed the Kurds' link to apartheid Israel and why the country has taken such a strong interest in the group, as well as the strange phenomenon of Western military veterans traveling to Syria to fight alongside the Kurds.
The Kurdish link to Daesh (ISIS) was also covered, as a number of Kurds have chosen to fight on their side. Kurdish alliances with armed terrorist groups in Syria -- particularly Daesh -- are very telling signs as to what extremes some Kurds will go to in order to bring their ideological manifestation of an independent, autonomous Kurdistan into existence.
In Part III of Abed's analysis, she will cover human rights violations, both past and present, that have been committed by the Kurds against Arabs and Christian minorities, as well as address misconceptions as to why the Kurds remain stateless.
It's important to reiterate that this three-part analysis is not meant to be understood as a sweeping generalization of the Kurdish ethnicity at large. The points being addressed are specifically in reference to the corrupt factions. The West has effectively preyed on the Kurds' internal divisions and has used some factions to fulfill an imperialist goal of dividing and weakening the Near and Middle East. The Kurdish people are diverse, and in recent years, aspects of their culture and customs have been discussed in mainstream media. But the behavior of some of their more corrupt factions must be addressed.
Kurds and Assyrians: a tumultuous past and present
On the Nineveh plains of northern Iraq, the Kurds dwell in cities such as "Dohuk" (formerly known by the Assyrian name of Nohadra). But these cities are "theirs" only in that they have established a relatively recent presence there.
Employing the criteria of cultural identity and thousands of years of historical authenticity, these lands are, and have been, uniquely Assyrian. The Kurds were essentially "given" these lands in the early 1970s as a means of drawing their eyes away from the oil-rich lands in and around the Iraqi city of Kirkuk. To this end, there were large migrations of Kurds into Dohuk which displaced, often forcibly, Assyrians who had far greater legal and historical claims to these lands.
This is a tactic commonly employed by the Kurds when attempting to ascribe validation to their "sacred quest" of establishing a Kurdish state – something which has never existed at any point in recorded history. By defining "Kurdistan" as any place where Kurds happen to dwell at any given point, they seem to be going by the maxim "possession is nine-tenths of the law" – which may work well in determining criminal liability, but not so well in determining one's homeland.
The Iraqi government cracked down, which resulted in many Kurds being forced out of the lands they had only recently acquired. Iraq and Iran came to a diplomatic resolution and the Kurds were left holding the proverbial bag in what would also become a recurring scenario. Nearly the exact same phenomenon occurred in the 1980s and 1990s when, during the first Gulf War, a no-fly zone was established that granted the Kurds a tangible measure of international support and protection.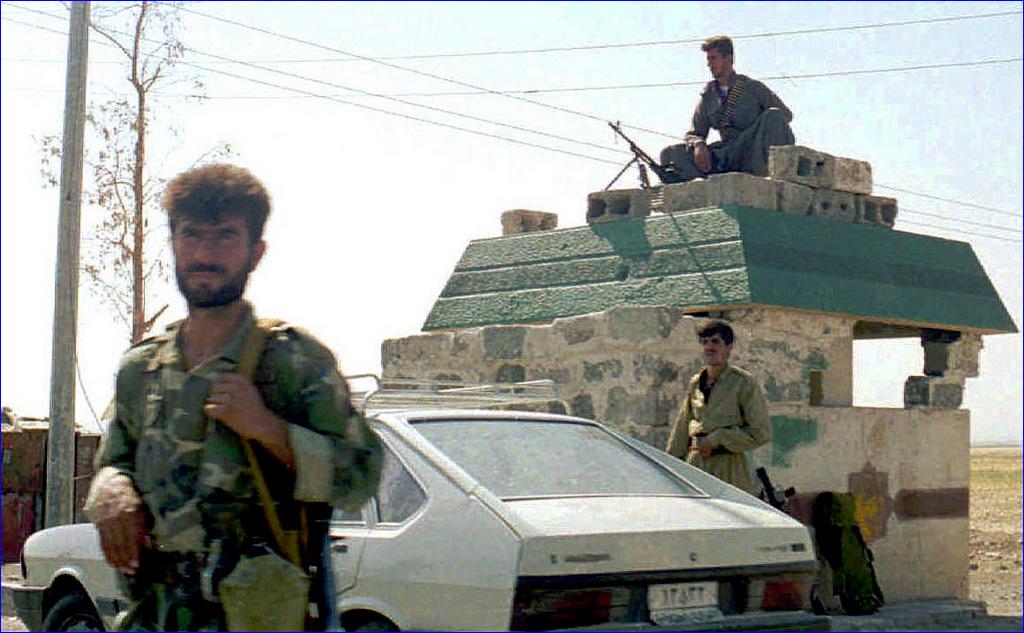 Watch: The assassination of an Assyrian leader by Kurdish forces:
As explained in the video above, Kurdish security forces in Syria tortured and murdered Assyrian military commander David Jindo after a false invitation under the pretense of cooperation. This was a move reminiscent of Kurdish leader Simko Shikak's 1918 assassination of Assyrian Patriarch Mar Shimun XXI Benyamin, which took place when he invited the patriarch into his home.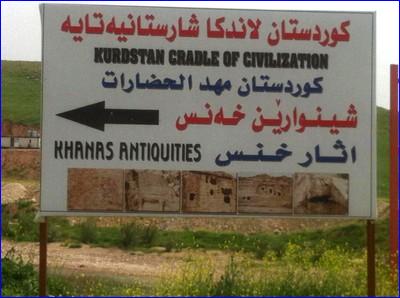 In recent years, Kurds have continued acting disingenuously towards Christian minorities, including Assyrians and even Yazidis. Their abuses have gone far beyond historical revisionism – an example of which can be seen in the picture below. This was also seen when they took refuge in northern Syria in the early 19th century and proceeded to drive Arabs and Armenians out of numerous towns.
Modern day horrors as Kurds allow Daesh to murder Assyrians
In July 2014, as Daesh began its incursion into Iraqi territory, the Kurdistan Democratic Party (KDP) began its systematic disarmament of Assyrians and several other ethnic groups so that it could use their weapons in its own struggle.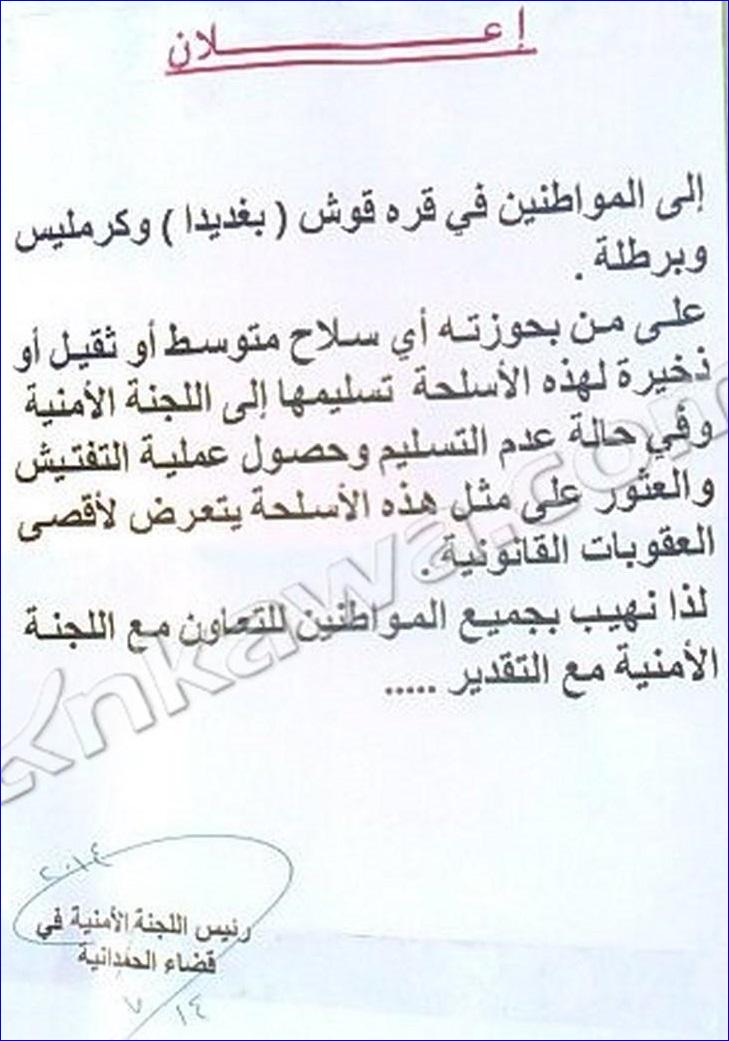 Notices were circulated threatening severe punishment for noncompliance. Assurances were given that the Peshmerga would provide some degree of protection.
But as Daesh advanced, the Peshmerga took the weapons and fled, following the same example as the Iraqi Army.
This left the Assyrians and Yazidis with no means to resist or defend themselves against Daesh. Reports even surfaced of these same Peshmerga gunning down Yazidis who tried to prevent them from fleeing with all the weapons.
Haydar Shesho, a Yazidi commander who managed to procure weapons from the Iraqi government, was then arrested by KDP authorities for organizing an "illegal" militia.
This scene was repeated elsewhere throughout the country, as 150,000 Assyrians were forced to flee the Nineveh plains, their ancestral land.
These actions can only be seen as a deliberate ploy by the Kurdish leadership to allow foreign forces to violently cleanse these areas of all non-Kurdish residents and then, with the help of their U.S. allies, retake and "liberate their lands."
Watch: Assyrians demanding an end to the Kurdish occupation of their land:
On April 13, 2016, Kurdish security forces blocked hundreds of Assyrians from participating in a protest outside of the Kurdistan Regional Government Parliament building. The protest was planned in response to the ongoing confiscation of Assyrian land by Kurds in northern Iraq.
Many testimonies have surfaced, such as a statement given to the UK Parliament by Yazidi ex-captive Salwa Khalaf Rasho, in which it is said that the Peshmerga, eager to flee first ahead of Yazidi civilians, has refused requests to stay and protect Yazidis or at least leave them their weapons. They had even reassured the Yazidis that they should return to their homes, where they would be defended.
"My name is Salwa Khalaf Rasho. I was born in 1998 and was in the ninth grade. I was leading a simple and modest life with my family until the day when Daesh attacked Shengal on August 3, 2014. I liked my city, Shengal, very much. I grew up under the principle of coexistence with all societies within the community, regardless of one's religion or sect, because the values of my religion do not allow to hate others and discriminate against them.

Therefore, Shengal was well known as the city of tolerance and ethnic diversity. What happened was shocking and unexpected, because we saw Daesh as our brothers. With this, I mean the Arab tribes of the villages that belong to Shengal. Suddenly, they became monsters and wolves. They collaborated with Daesh when Yazidi women and children were enslaved and men were killed.

There were about 9,000 Peshmerga in my city who were armed with various types of weapons. They said to us, 'We will protect and defend Shengal, and Daesh will only enter Shengal over our dead bodies. We will defend Shengal until the last bullet.'"

Unfortunately, they ran away without any resistance and without warning or giving notice to the civilians so we could escape from falling into the arms of Daesh monsters. They left us women and children to our cold-blooded fate. I and the people with me tried to flee into the mountains like the others."
Watch: How Kurds disarmed Assyrian Christians and abandoned them to Daesh:
A history of human rights abuses
In light of these horrors, it should easily be understood why the Kurds would have a vested interest in claiming Arab, Assyrian or Armenian history as their own. Failing in that endeavor, they often resort to destroying any relevant history altogether. In this aspect, they operate in a similar manner to Daesh.
It's worth mentioning that the Kurds are not even a majority in the land they claim as theirs in northeast Syria. For example, in the governorate of Al Hasakah, they amount to about 30 to 40 percent of the population. That number has decreased since the outbreak of the current Syrian conflict, as many Kurds have left for European countries.
Most of the have fled to Germany, where their numbers are about 1.2 million, a little less than the number of Kurds living in Syria. However, they do not seem concerned about seeking autonomy there. They only seek it in the Middle Eastern countries that have provided them with refuge all of these years – these are the countries they want to stab in the back instead of thanking them for their hospitality.
Watch: Widely-documented human rights abuses:
"These abuses include forced displacement, demolition of homes, and the seizure and destruction of property," the group wrote. "In some cases, entire villages have been demolished, apparently in retaliation for the perceived support of their Arab or Turkmen residents for the group that calls itself the Islamic State (IS) or other non-state armed groups." Amnesty International has also documented the use of child soldiers, according to Lama Fakih, a senior crisis advisor for the group.
The Kurds claim that their "Kurdistan" is "multicultural and multireligious," which is disingenuous when you consider that those additional cultures consist of people now dwelling amongst a Kurdish majority in lands the Kurds took by force. These people will be faced with the prospect of casting meaningless votes on Kurdish independence since, even if they all voted "no," they would nonetheless be outvoted by the Kurdish "yes" majority and as a result would still find themselves subject to a Kurdish government and agenda.
Why are they stateless?
Unethical and violent treatment of minorities, particularly Christians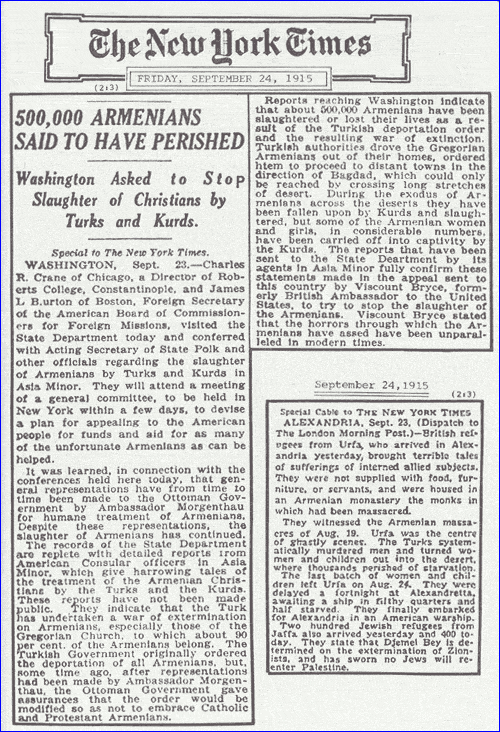 Kurdish tribes in Turkey, Syria and Iran conducted regular raids and even paramilitary assaults against their Christian neighbors during World War I. The Kurds, acting in accordance with a long-standing tradition of a perceived Kurdish right to pillage Christian villages, were responsible for many atrocities that were committed against Assyrian Christians. A Kurdish chieftain assassinated the patriarch of the Church of the Aast at a negotiation dinner in 1918, the aftermath of which led to the further decimation of the Christian population.
Kurdish complicity in Armenian genocide
Other indigenous and Christian ethnic groups, such as the Assyrians and the Ottoman Greeks, were similarly targeted for extermination by the Ottoman government in the Assyrian genocide and the Greek genocide, and their treatment is considered by some historians to be part of the same genocidal policy that targeted the Armenians. Most Armenian diaspora communities around the world came into being as a direct result of the genocide.
In the eastern provinces, the Armenians were subject to the whims of their Turkish and Kurdish neighbors, who would regularly overtax them, subject them to brigandage and kidnapping, force them to convert to Islam, and otherwise exploit them without interference from central or local authorities.
"The Kurds would sweep down from their mountain homes. Rushing up to the young girls, they would lift their veils and carry the pretty ones off to the hills. They would steal such children as pleased their fancy and mercilessly rob all the rest of the throng…While they were committing these depredations, the Kurds would freely massacre, and the screams of women and old men would add to the general horror."
Discrimination against Feyli Kurds in Iraq
It is important to reiterate that there are many Kurds to whom some of the characterizations presented in this analysis cannot and should not be applied. There are Kurds who have assimilated into their current cultural societies and reject the ideals of the separatist Kurds. Their concerns are mostly political in nature and specific to the nations in which they reside.
They are not interested in establishing a united Kurdish country in the four countries they occupy, through Balkanization, land theft, genocide or any of the other violations against humanity that have been addressed here. In fact, these Kurds have faced discrimination from the Kurdish community as a result of their unwillingness to support the establishment of a Kurdish state.
The Feyli Kurds in northern Iraq are a prime example. Many of them expressed opposition to a referendum on independence announced by the Kurdistan Regional Government (KRG) on June 7, 2017, as they feared it could lead to an escalation of the area's ongoing crisis.
Fouad Ali Akbar, a Feyli member of the Baghdad provincial council, told Al-Monitor, "They are Shiite Kurds...neither Shiites nor Kurds have done Feylis justice. Most Feylis are moderate and culturally diverse, and this has prevented them from earning the trust of Kurds and Shiites, who, for ethnic and sectarian reasons, have not wanted them to have a stable identity with normal rights like other Iraqi citizens."
Kurdish racism against Arabs – especially Syrians
"When working in Iraqi Kurdistan, I was struck by the prevalence of regressive attitudes, including racism and sexism. I returned recently from Iraqi Kurdistan where I spent a couple of weeks investigating the Islamic State (IS) group. Working mostly in the vicinity of Sulaymaniyah and Dohuk, I could not help but notice a great many societal and cultural characteristics that somewhat surprised me.

Considering what is happening right next door in Syria, the level of anti-Syrian racism did catch me off guard. I came across such prejudice almost daily. A taxi driver quipped in Sulaymaniyah: 'These Syrians are ruining our country.' Another taxi driver was quite upset at Syrian kids who were washing car windows and selling tack. 'These are dirty kids.' he said. It was all but unusual that internally displaced persons of Iraqi or Syrian Arab descent who had fled to Iraqi Kurdistan were discussed using such language.

It wasn't just taxi drivers. In the Sulaymaniyah governorate building, an officer deemed it appropriate to prep us for our interviews in refugee camps in the area. She told me, verbatim, that Syrian refugees 'complain about everything.' In another city, a police chief was astonished and disappointed that my colleagues and myself were applying for a permit to work in a camp inhabiting Syrian refugees. The police chief stated: 'But these are Syrian refugees!' There was no shortage of contempt in his voice.

I had been fully aware that Kurdish nationalism flirts with highly questionable portrayals of Arabs, Persians and Turkish people. In Iraqi Kurdistan, I was surprised at how prevalent some of those attitudes seemed to be."
A Well-Curated Myth