Verkhovna Rada of Ukraine initiated retirement Yatsenyuk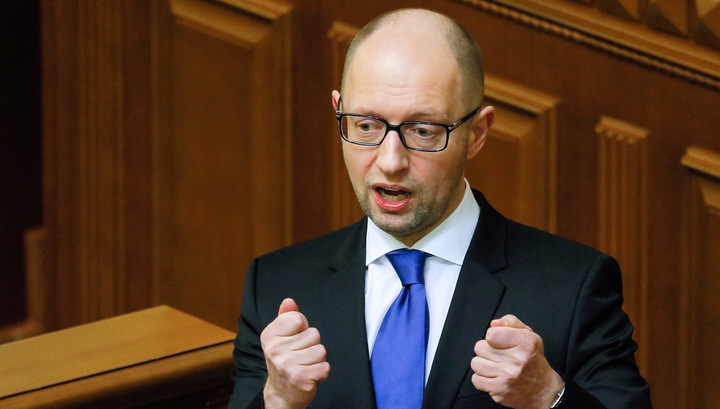 EPA photo
A group of deputies of the Verkhovna Rada of Ukraine intends to insist on the creation of a parliamentary commission of inquiry into abuses in government and dismiss Prime Minister Arseniy Yatsenyuk, reports
Ukrainian newspaper "Vesti"
.
"We are confident that next week Yatsenyuk should be removed from the duties of the Prime Minister. This will be done within the framework of voting and after the decision of the Verkhovna Rada on the establishment of the temporary investigative commission to investigate the loud statements Gordienko, who headed the State Financial Inspection was Yatsenyuk dismissed because, according to Yatsenyuk, is very active in this investigation, "- was quoted a statement from the Bloc MP Petro Poroshenko (BPP) Sergei Caplin.
MPs, he said, will block the rostrum of the parliament until the decision to establish a temporary commission investigating abuses in government.
Earlier,
the head of the State Financial Inspection of Ukraine Mykola Gordienko accused the government of corruption Yatsenyuk. After that Prime appealed to the GPU with a request to investigate possible acts of corruption in the Ukrainian government.
It clarifies
"Interfax"
, a group of deputies (deputy from BPP Sergey Caplin and members of sectarian association "Freedom" Andrew Ilienko and Yuri Levchenko) stated that begin collecting signatures for the resignation of Yatseniuk after the searches in the Interior Ministry, as well as preparing a large rally near the Verkhovna Rada of the next week.
In addition, it is reported that MPs addressed to the Attorney General and the leadership of the Ukrainian Security Service with the requirement to give an answer to the question whether the appropriate legal action as a result of a search in the office of Deputy Interior Minister of Ukraine Serhiy Chebotarev, who allegedly found evidence of corruption schemes protection racket.
"We have learned the information that some time ago in the office of the Deputy Minister of Internal Affairs Chebotar was searched. As part of this search were found jewelry, gold bars, as well as information and documentation that the Ministry of Interior are powerful corruption schemes, which permeated all vertical ministry "- quoted Kaplina
channel "112 Ukraine"
.
Disastrous Yatsenyuk leaves, long live the new prime minister!
BY
SAMSON
· 03.31.2015
Yatsenyuk days as Prime Minister of Ukraine numbered. Official who has not attained success in government, can change a US citizen and the current Minister of Economy Natalia Yaresko. This was stated by Russian political analyst Sergei Mikheyev.
According to the expert, the President of Ukraine Petro Poroshenko such appointment may play into the hands, because only in this case it loses the political threat from rival Yatsenyuk.
"Now the conversation went that Yatsenyuk can move from the post of Prime Minister and as a major figure who can replace him, called a citizen of the United States Yaresko. The powers of the prime minister now in Ukraine are comparable to the powers of the president. If the prime minister is a citizen of the United States, it would mean a complete transfer of management of the country the United States, "- said Mikheyev.
http://tvzvezda.ru/news/vstrane_i_mire/content/201503310821-okdy.htm